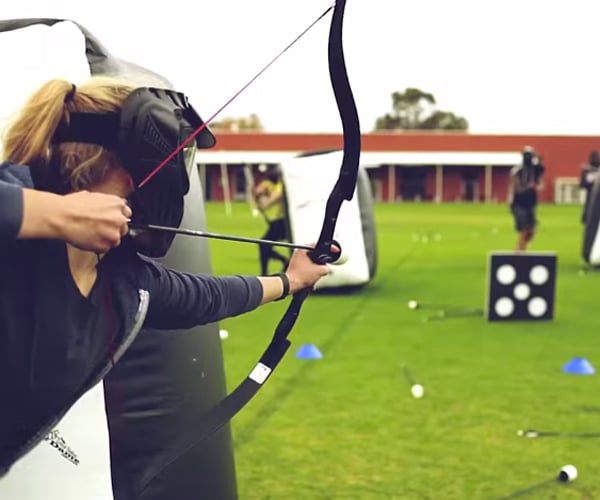 Archery Tag is a great! Full-on medieval combat without any mess or pain. At Red Rock Leisure we have the unique opportunity of being able to offer a variety off locations from woodland to beach arenas, all situated in East Devon's beautiful countryside. From Stag and Hen doos to Birthday parties and league tournaments we have it all. Call us now on 01395 276599 to book your epic Archery Tag event with us.
Written by
John
. Created:
26 June 2016 11:49
Last updated:
26 June 2016 11:55
---
This morning might have been -5degrees C but that will not stop us from getting our dawn SUP on. The air was crisp and the sunrise was beautiful! We even found a nice little lump of a wave to have a slide on. We truly believe that getting out there through the winter is the only way to survive the dark cold months after the christmas and new year joy has subsided.
Once you are up, and managed to slip into your Spartan Wetsuits Reflex, your core body temperature warms all of the extremities. You can then just relax and enjoy the epic scenery as the red, orange and yellow skies mix with the dark blues and silver seas.
We have a huge range of Spartan wetsuits in stock on site, the perfect christmas present for all serious SUPers, Windsurfers and Kiters. Helping them stay out there through the winter months, as we all know some of the best conditions, both windy and calm waves, are found in the mid-winter.
Next time we head down for a dawn patrol we will endeavour to let you all know, so that you can join us, we have boards if you don't. All you need is experience and the drive to get out in the cold at 7am.
.
Written by
John
. Created:
23 November 2015 10:13
Last updated:
22 December 2015 09:25
---
Come and join us before you have to go to the office.
Dawn patrol is one of our most fav. things here at Liquid Motion. Up before the crack of dawn, jump into the warmest/dry wetsuit you can find, fly down to the beach to find the most beautiful sunrise, just popping over the horizon. Paddle out on mirror flat water with some friends, life cannot get much better than that!
This morning Kristian was up at 6am on the water by 7am. What a beautiful start to the day, and it was warm too. If you would like to join us we will be running early morning sessions on clear/clam mornings from now, until Easter, when the evening sessions kick in.
Watch our Facebook page for dates to be published (due to the nature of British weather, we will organise the morning paddles the day before and announce the session on Facebook).
https://www.facebook.com/LiquidMotionWatersports
Written by
Steve
. Created:
09 February 2015 13:02
Last updated:
09 February 2015 13:13
---