'Tis the season to be-come a Kitesurfer'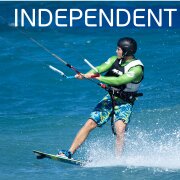 Whatever your kiteboarding level is, IKO methods are designed to make you learn and progress quickly and safely with an IKO Certified Instructor. Your IKO Instructor will evaluate your level and train you until you master all the skills relative to the course.

 When you successfully complete a course at any IKO Centre, you will be certified and receive an IKO Member Card that certifiy the level you have reached.
Discovery: Discover how to "master the wind power" 
Do you want to discover the sport and learn how to master the wind? Your IKO Instructor will introduce you to various aspects of the sport, and teach you how to hone various skills on land before performing on water all the while learning the safety rules. Your IKO Instructor will make you learn how to keep safe by showing you how to assess the wind and physical location; use the safety systems; manage proper equipment; set-up; and control the trainer kite. 
Intermediate: learn to harness the power of your kite in water!
Are you ready to get wet? It's time for your first water start. Get ready to explore the full potential of the wind power. You'll learn to: use the kite power to body drag in all possible directions, water relaunch your kite, self rescue, recover your board; and become proficient at the MOST VALUABLE SKILL IN KITEBOARDING … riding on your own!
Independent: ride independently and learn a few tricks like the first jump!
The more you learn the most pleasure you will have. It's time to become an independent rider! Your IKO Instructor will show you how to ride upwind, toe-side, attempt your first jump, and help you focus on advanced skills like controlling your speed by edging, changing direction without stopping, self-launching and self-landing safely. 
As an independent rider, you'll be able to ride on your own and rent equipment wherever you go.
Complete the intermediate course or reach equivalent level

Be able to swim

Sign the student waiver form

Be in good health with no physical restriction.
From Zero to Hero for just £299 a course of 4 sessions, 3hrs each, Bookings on 01395 276626
Written by
John
. Created:
13 September 2016 10:44
Last updated:
13 September 2016 12:48